Okay, to be honest we stole this cute idea from our friends over on our
Give1 Caribbean page
. We do not have a family to feature this week so we will be posting as usual and sending out applications to those that
contact us
! Please let us know if we can assist you with raising funds for your domestic adoption! So far we have raised over $1700 for just
TWO FAMILIES
!!!!
Just what is the Give1Save1 Domestic blog hop? It's a simple way to share your personal blog with others, check out other blogs and simply connect with families who are going through a similar process as you. At the end of the week we will have a collection of blogs to read through. The more involvement we have and word spreads, the more blogs will be added. It will be so much fun to read some new blogs and encourage new adoption friends throughout their journey to their precious little ones!
So here are the simple rules: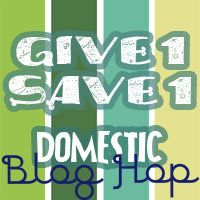 You must have a blog about domestic adoption to participate in this blog hop.
Enter your blog address below in the space provided as well as the blog name.
The blog hop will go on for one week so you are able to add your blog address until next Monday (Aug. 13th). After that, readers will still be able to find your blog address here on this post, but no more submissions will be allowed after the 13th.
Spread the word! Create a post on your blog about the blog hop so your readers can find a great collection of adoption blogs and be sure to include the link to this specific post.
Check out the other blogs listed. Click around and leave comments for people who have linked up their blogs. You can let them know you found them through the blog hop. If it's successful, we can do more blog hops in the future.
Our hopes are that this fun little blog hop will further connect our domestic adoption community. I'd also love to read about each of your families and what your adoption process has been like. Hopefully many families participating in the hop will be represented by Give1Save1 in the weeks and months to come.